18th March 2021

Published on

18th March 2021

Plan approved by COVID-19 Leadership Board on
Background
As part of the Covid 19 recovery strategy the Government has instructed Local Councils to develop and outbreak management plan to support the NHS Test and Trace process. The Local Outbreak management plan will respond to local outbreaks within complex settings, notified to the Council through the local Health Protection escalation process via an alert system into the single point of contact email address: COVID@southtyneside.gov.uk alongside notification to the Director of Public Health.
These terms of reference outline the key responsibilities of the Outbreak Control Team.
Public Health England (PHE)
PHE is responsible for the overall leadership and coordination of the health protection response to individual cases and outbreaks of Covid 19.
Director of Public Health
Under Section 30 of the Health and Social Care Act (2012) [Section 30] the Director of Public Health (DPH) is responsible for the LA contribution to health protection, including planning for and responding to incidents that present a threat to the public's health eg Covid 19.
Other DPH functions relevant to communicable disease management include:
"be the person who elected members and senior officers look to for leadership, expertise and advice on a range of issues, from outbreaks of disease and emergency preparedness through to improving local people's health and concerns around access to health services"
Environmental Health Team
The local authority environmental health team have a key role in the investigation of the source of infection in relation to both individual cases, and outbreaks, of notifiable diseases. They also have a role in relation to securing improvements if the LA is the enforcing authority. This role is carried out in liaison with Public Health England, and where appropriate, the Director of Public Health.
Outbreak Management Plan
As part of the local management of Covid 19 Local Authorities under the leadership of the Director of Public Health is required to develop an outbreak management plan, and establish an outbreak control team (OCT) to operationalised a response to local outbreaks. As a result of this requirement local public health and environmental health teams may be required to deploy resources locally to test and trace those concerned in the outbreak, as well as taking key actions to manage and stop the outbreak.
Local Authorities will be notified of any outbreaks via an alert system from the local Health protection team via the single point of contact email address: covid@southtyneside.gov.uk and notification to the Director of Public Health.
The Outbreak Management Plan identifies several at-risk groups or settings that should be prioritised in an outbreak situation. The 4 settings have been identified to offer setting specific support and guidance and will be prioritised for OCTs.
The four settings are:
Adult Social Care and Care homes – (Lead Officer) Vicki Pattinson, Interim Director of Adult Services / Councillor Anne Hetherington, Lead Member Independence and Wellbeing
Schools and Education settings – (Lead Officer) Beverley Scanlon, Head of Learning and Early Help / Councillor Moira Smith, Lead Member Children, Young people and Families
Businesses and Workplaces (including large factories, Port of Tyne, call centres) -(Lead Officer) Stuart Wright, Head of Environment / Councillor Joan Atkinson, Lead Member Area Management and Community Safety
Communities (including BAME, Homeless and other vulnerable groups and geographies) - (Lead Officer) Tom Hall, Director of Public Health / Councillor Mark Walsh, Lead Member for Housing and Transport
Definition of an outbreak
An outbreak or incident may be defined as:
an incident in which two or more people experiencing a similar illness are linked in time or place
a greater than expected rate of infection compared with the usual background rate for the place and time where the outbreak has occurred
a single case for certain rare diseases such as diphtheria, botulism, rabies, viral haemorrhagic fever or polio
a suspected, anticipated or actual event involving microbial or chemical contamination of food or water
The Management of COVID-19
The following definition will be used:
Two or more cases which meet the clinical case definition above, arising within the same 14-day period in people who live or work in the care home
The occurrence of two or more cases of suspected or confirmed COVID-19 arising within the same 14-day period in a shared setting. The occurrence of two or more cases of suspected or confirmed COVID-19 arising within the same 14-day period in a shared setting.
Purpose
The outbreak control team will provide the operational management of the local outbreak, advice the management board of actions and decisions taken such as the deployment of local testing. The Outbreak control team will meet under the instruction of the health protection team via notification into the Single point of contact (Covid inbox: covid@southtyneside.gov.uk) and the Director of Public Health. The names of the members to be invited for the OCT will be provided to health protection team in relation to the setting.
Aim
To manage outbreaks within specific settings, while considering the wider impact of Covid 19 on the local community.
Objectives
Set up the OCT using the standard agenda developed by PHE.
Contact cases or individuals in isolation to identify the need for social or clinical support for individuals.
Provide or coordinate support to the setting to implement IPC advice (including access to PPE, provision of cleaning etc).
Provide advice and support to businesses regarding continuity issues following closure or closure of a setting or high level of absenteeism.
Contact cases where there are issues regarding engagement with advice provided/loss to follow-up.
Receive and respond to local media issues working jointly with PHE and other partners to provide a joint response.
Produce and disseminate operational communications – e.g. letters to parents or employees.
Maintain a record of all actions, decisions and intelligence - using a sitrep or line list
Provide a contact telephone number and email address which will be monitored and responded to 7 days a week. Where an urgent response is required, additional contact telephone numbers will be made available.
Provide updates to the PHE HPT on the action taken at a local level and will report back any significant concerns regarding ongoing risk of spread of infection.
Provide advice and learning back to the COVID-19 Management Board to support the development of Standard Operating Procedures and the refinement of the Outbreak Management Plan.
Where necessary and appropriate, this will include identifying and allocating surge-capacity of additional contact tracers and resources to control outbreaks. Any changes to protocol applied by the OCT will be shared with the local contact tracing hub to inform contact tracing activities.
Membership
Core
Tom Hall

Director of Public Health, South Tyneside Council

Vicki Pattinson

Head of Adults and Joint Commissioning, South Tyneside Council/CCG

Beverley Scanlon

Head of Learning and Early Help, South Tyneside Council

Stuart Wright

Head of Environment ,South Tyneside Council

Jeanette Scott

Executive Director of Nursing Quality and Patient Safety, South Tyneside CCG

Kirstie Hesketh

Head of Quality and Patient safety, South Tyneside CCG

Anna Christie

Knowledge and Intelligence Lead, South Tyneside Council/PHE

Paula Phillips

Service Lead for Public Health, South Tyneside Council

Samantha Start

Senior Public Health Practitioner, South Tyneside Council

Joanne Chastney

Operations Manager Environmental Health, South Tyneside Council

Natalie Johnson

Senior Press Officer, South Tyneside Council

Dr Gayle Dolan

Consultant in Health Protection North East, PHE Health Protection Team

Ali BoonChandler

Senior Health Protection Nurse, PHE Health Protection Team
Roles and Responsibilities
Chair of the OCT - to convene and lead the OCT, ensuring all members of the team understand their role and responsibility, focus of the outbreak, expectations to maintain a record of data and decisions made.
OCT Setting Lead - Update progress and issues from the outbreak(s) into the Health Protection. Working with the link Lead Member to provide updates and agree operational comms.
Admin/notes - to collate an accurate record of the OCT meetings and decisions, outlining key actions to be taken and who is responsible for those actions.
Data collection - an outbreak log should be developed and maintain to provide a situation report (sitrep) for large and particularly complex outbreaks. Any information relating to cases, testing and contacts should be recorded but remain confidential.
Report writing - all documentation and evidence should be managed by one individual within the OCT to reflect the outbreak plan and to develop an initial report once the outbreak has been closed. A public report can also be developed suitable to share publicly completing the process with a view to identify key learning.
Setting Specific Roles
Adult Social Care and Care homes – SPOC with care home managers
Schools – SPOC with all education establishments
Port Authority link with transport links
Businesses and Workplaces – knowledge of sector, wider impact on service provision and delivery and impact on economy
Cultural and ethnic groups – knowledge of local groups, key faith leaders, specialist advice on engagement methods and sharing of information
Deployment of resources
Some examples below:
Testing - deployment of local testing to an outbreak eg workplace, care home
People - deployment of staff to support testing, etc
Facilities - shielding hub support to those isolating, cleaning for workplaces
End of an Outbreak
The OCT will decide when the outbreak can be considered over and will record this as part of the outbreak control action log. The decision to declare the outbreak over should be informed by ongoing risk assessment and considered when:
there is no longer a risk to the public health that requires an OCT to conduct further investigation or to manage control measures;
the number of cases has declined; 28 days since the last confirmed case OR
the OCT is satisfied that the chain of infection has been broken with the identification and isolation of all cases.
At the conclusion of the outbreak the OCT will prepare a written report. Final outbreak reports are primarily for dissemination to a distribution list agreed by OCT members and should be completed within 12 weeks of the formal closure of the outbreak. Lessons identified and recommendations should be collated into an overall report and shared with the Management and Leadership Board.
A debriefing meeting of the OCT will normally be convened after the end of the outbreak to consider lessons identified and any further preventative action required. The lessons identified should be reviewed within 12 months of the formal closure of the outbreak.
Standard Agenda
A standard agenda will be used for each outbreak control meeting consisting of the following items;
Apologies
Draft minutes (previous meeting date)
Review of evidence to date

Epidemiological Report
Microbiological Report
Environmental Report
Control measures in place

Further investigations required

Epidemiological
Microbiological
Environmental

Preliminary Hypothesis
Resources
Ongoing public health risk and further control measures required
Communications

Public & Media
Other local authorities
PHE North East, FES NE & PHE nationally
Laboratories

Legal issues
Agreed Actions
Date and time of next meeting
Escalation criteria
Governance
The Outbreak control Team will report up to the Covid management board to provide an update on from the OCT(s) to provide progress reports, highlighting areas for specialist or technical advice and support, as well as presenting a written report following the end of an outbreak.
The chair of the OCT will be the health protection consultant from PHE, unless escalated to the DPH and/or Local Setting Lead.
Governance Chart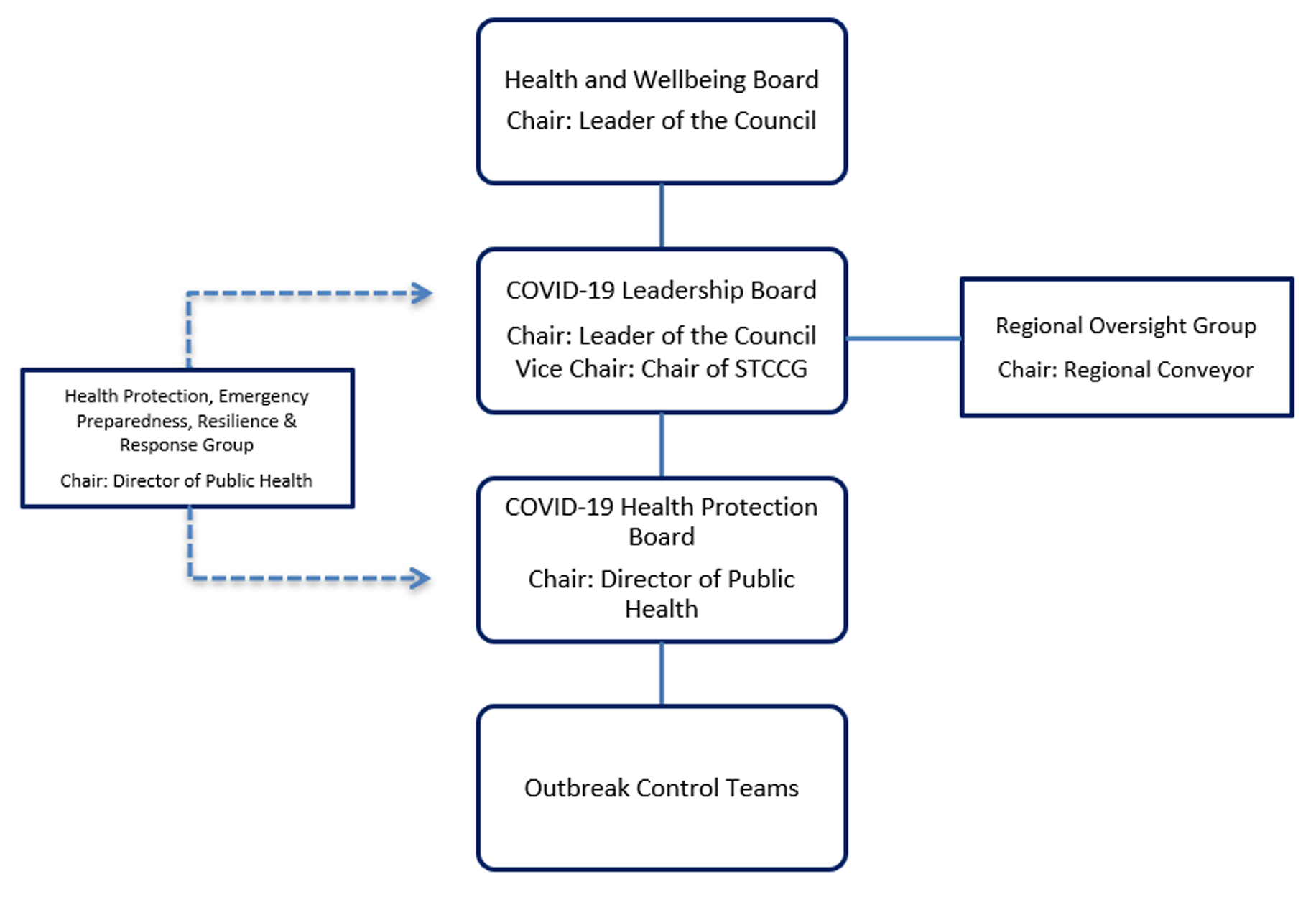 Frequency
For the active outbreak operational meetings these will be scheduled for daily at the start of the outbreak, then every two days and reviewed as the severity of the outbreak slows – these will be diarised at the start of the outbreak and utilised if needed until the outbreak is closed.